Fascia Roll & Release Workshop
Starts on Saturday, 11/12/2021
Price 38.00 €
Description:
Do you experience tightness, discomfort, or stiffness in your body that doesn't go away despite any efforts to stretch your muscles?
Myofascial release relieves aches, pain and tightness in the body by bringing oxygen to tissues, increasing circulation and mobility. It brings back the slide and glide between fascia and muscles. This helps the body and mind to physically and mentally destress you.
What to expect: - Introduction to the role of fascia and fascial dysfunctions - Roll and Release Techniques and Methods - Fascial facial
Open to EVERYONE - no previous yoga experience needed.
In line with the Corona rules issued by the Bavarian government you are required to register upfront and show proof that you are either vaccinated, recovered or tested (3-G rule) upon entering the studio.
Find additional information about 3G rules here: https://www.zusammengegencorona.de/informieren/alltag-und-reisen/geimpft-getestet-genesen-diese-regeln-gelten/
Teacher :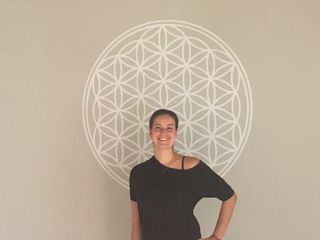 Maxine
For me Yoga means rediscovering the natural rhythm of live and reconnecting to your inner teacher as well the flow of live. My classes are fluid and reach from powerful to introspective & meditative, but are also fun. Aligned with the power of nature we will experience not only stronger solar flows but also the quiet lunar side of yoga. We focus on bringing awareness to the natural rhythm of our breath and body. I encourage my students to always listen to their individual energy level on each day and provide different Kramas (levels) for each Asana. This gives students of all levels the possibility to develop and grow in their own Yoga practice.
Dates:
| | | | | |
| --- | --- | --- | --- | --- |
| 1. | 11/12/2021 | 09:00 - 12:00 | Kuttlerstraße 21, 91054 Erlangen | Maxine |
Cancellations
All registrations are final and non-refundable. The spot is secured through payment of the entire fee. Due to the advanced notice required in arranging courses and workshops, changes are only possible if requested 2 weeks prior to the commencement of the workshop. Workshop spots can be transferred to another Candidate if you cannot participate. In the event that a course or workshop is cancelled, registered students are eligible for a refund or may select an alternative and equally priced course or workshop option.
* All prices including VAT