60hr Yin Yoga Teacher Training 2021
Starts on Saturday, 22/01/2022
Price 700.00 €
Description:
At Y21 we believe that Yoga is not a closed, one-size-fits all recipe to follow. The same belief shapes our Yoga Teacher trainings.  We aim at not only providing you with a solid foundation of the why, what and how of teaching Yoga, but hold the space for your very own personal growth and development. A hOMe to be yourself and to become an authentic Yoga Teacher.
60 hour YIN YOGA Teacher Training _Teaching Language: ENGLISH
YIN SIDE of YOGA & MEDITATION 3 weekends - 60 hours Certification JAN 22-23 - (SAT + SUN 8-5pm) FEB 12-13 - (SAT + SUN 8-5pm) FEB 26+27 - (SAT + SUN 8-5pm)
Open to all interested to study or teach Yin Yoga! No previous Yoga Training required.
What you will learn YIN YOGA THEORY and PRACTICE - Foundation and history of Yin Yoga - Yin Archetype of Asanas and Variations, prop usage - Teaching and Sequencing Methodology
MEDITATION+ INTRO to YOGA NIDRA - How meditation works - Types of meditations - Yoga Nidra science, theory and practice
ANATOMY (hip focus) - Functional Anatomy of the hip - Skeleton Variations - Posture Analysis Lab - Fascia Theory
Led by Maxi Winde All 6 days need to attended for the 60hr certification Saturday + Sunday 8:00 to 17:00
Early Bird Special Ends Okt 30 | 550 EUR Regular 700 EUR
Spots are limited to 8 students to allow for the best learning experience.
In line with the Corona rules issued by the Bavarian government you are required to register upfront and show proof that you are either vaccinated, recovered or tested (3-G rule) upon entering the studio. Find additional information about 3G rules here: https://www.zusammengegencorona.de/informieren/alltag-und-reisen/geimpft-getestet-genesen-diese-regeln-gelten/
Teacher :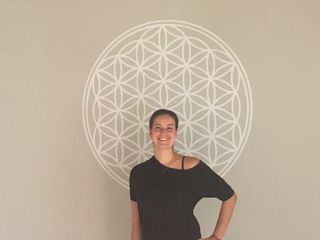 Maxine
For me Yoga means rediscovering the natural rhythm of live and reconnecting to your inner teacher and the flow of live. My classes are fluid and reach from powerful to introspective & meditative, but are also fun. Aligned with the power of nature we will experience not only stronger solar flows but also the quiet lunar side of yoga. We focus on bringing awareness to the natural rhythm of our breath and body. I encourage my students to always listen to their individual energy level on each day and provide different Kramas (levels) for each Asana. This gives students of all levels the possibility to develop and grow in their own Yoga practice.
Dates:
| | | | | |
| --- | --- | --- | --- | --- |
| 1. | 22/01/2022 | 08:00 - 17:00 | Kuttlerstraße 21, 91054 Erlangen | Maxine |
Cancellations
All registrations are final and non-refundable. The spot is secured through payment of the entire fee. Teacher Training spots can be transferred to another candidate if you cannot participate. Due to the advanced notice required in arranging teacher trainings, changes are only possible if requested 2 weeks prior to the commencement of the training. In the event that a course or workshop is cancelled, registered students are eligible for a refund or may select an alternative and equally priced course or workshop option.
* All prices including VAT