Bodybliss Modul 3 I Live Streaming I Entdecke Deine fließende Natur
Online stream
Starts on Thursday, 18/01/2024
Price from 420.00 €
Description:
Faszien, Wasser, fließende Dynamik und gesunder Stoffwechsel
Viele Menschen haben den Zugang zu ihrer fließenden Natur verloren. Manche werden unbeweglich und verspannt in Körper und Bewegung. Andere erstarren durch Stress und Überlastung an Herz und Gefühl. Mit unangenehmen Folgen für die Gesundheit, die Lebendigkeit und unsere Beziehungen. An diesen vier Tagen entdecken wir den Körper als einen Fluss: ständig in Bewegung und andauernd in Veränderung.
Über federnde, dynamische Bewegungsimpulse aus dem Faszientraining bringen wir Stauungen ins lebendige Fließen. Dreidimensionale, Dehnungen lösen verfilzte Faszien, fördern Geschmeidigkeit und Flexibilität. Subtile Atem- und schwingende Tonsequenzen unterstützen fein und sinnlich das heilsame Strömen. Über das Verfeinern der inneren Achtsamkeit eröffnet sich ein erweitertes Bewusstsein und die Fähigkeit 'Leben als Bewegung' zu erfahren. Kontinuierlich im Wandel und ständig in Veränderung. So kommen wir unserem äquatischen Wesen auf die Spur und entdecken nach und nach lebendig, fließende Freiheit.
Der gesamte Kurs wird mitgeschnitten, dieses Videomaterial stellen wir dann im Anschluss an die Weiterbildungen zum persönlichen Nachvertiefen für drei Monate zur Verfügung.
Falls nicht anders angegeben finden die Präsenzseminare in den Schulungsräumen der Somatics Academy, Georgenstrasse 22, 80799 München statt.
Online stream
There is an online stream available for this activity. To participate, take the following steps:
This studio uses Zoom as their online streaming provider. Download the according app to your laptop, tablet or smartphone
Access to the online livestream is available 15 minutes before the start of the activity. Simply go to "My bookings" and click on "Join online stream now" to be redirected to the corresponding page
With some streaming providers (e.g. Zoom) it is possible for participants to see each other. However, it is theoretically possible to deactivate the camera function. The name you enter when entering the online meeting room is displayed to other participants. However, you can always change your name (e.g. only the initials). Please note: Individual rules for online participation may apply for each class or venue.
Trainer :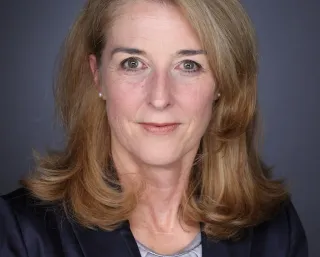 Divo Gitta Müller
Dates:
| | | | | |
| --- | --- | --- | --- | --- |
| 1. | 18/01/2024 | 14:00 - 18:00 | Live Streaming ,, | Divo Gitta Müller |
| 2. | 19/01/2024 | 09:00 - 18:00 | Live Streaming ,, | Divo Gitta Müller |
| 3. | 20/01/2024 | 09:00 - 18:00 | Live Streaming ,, | Divo Gitta Müller |
| 4. | 21/01/2024 | 09:00 - 14:00 | Live Streaming ,, | Divo Gitta Müller |
* All prices including VAT