Webinar: Faszien als sensorisches und emotionales Organ
Online stream
Starts on Sunday, 21/05/2023
Price 45.00 €
Description:
Aktuelle Forschungen belegen, dass das kollagene faserige Bindegewebs-Netzwerk des Körpers (Faszien) eine weitaus aktivere Rolle spielt als bisher angenommen. Dazu gehört die Fähigkeit der Faszien, ihre Steifigkeit unabhängig von der neuromuskulären Steuerung zu verändern, ihre Rolle als potenzieller Schmerzgenerator und ihre Funktion als unser reichhaltigstes Sinnesorgan für die Körperwahrnehmung.
Darüber hinaus sind neue Erkenntnisse über eine komplexe Verbindung zwischen Faszien und dem vegetativen Nervensystem, Emotionen und dem Immunsystem verfügbar. Daraus ergeben sich erweiterte Perspektiven und wertvolle Anregungen für die praktische, klinische Anwendung in Bezug zur therapeutischen Begleitung bei posttraumatischen Belastungsstörungen, sowie anderen verbreiteten Aspekten der muskuloskelettalen Medizin. In diesem Webinar erläutert Dr. Robert Schleip die wichtigsten Erkenntnisse aus der internationalen Faszienforschung der letzten Jahre in verständlicher Form.
Das Webina rwird aufgezeichnet und steht den Teilnehmer*innen im Anschluss dann drei Monate zur Verfügung.
Faszien als Sinnesorgan: ihre Bedeutung für die Propriozeption, unseren sogenannten sechsten Sinn.
Faszien als Schmerzgenerator: aktueller Stand zur Differentialdiagnostik faszialer Rückenschmerzen
Faszien und Interozeption: Einfluss von viszeralen und (sub)kutanen Rezeptoren auf das Körperbild und emotionale Grundausrichtungen.
Wechselwirkungsketten zwischen Faszientonus, Emotionen und autonomen Nervensystem.
Neue Einsichten zur dynamischen Interkation zwischen Faszien und dem Immunsystem
Die Rolle von Embodiment und Achtsamkeit in der faszialen Wahrnehmung.
Dieses Webinar wird aufgezeichnet und steht im Anschluss drei Monate zur Verfügung.
Online stream
There is an online stream available for this activity. To participate, take the following steps:
This studio uses Zoom as their online streaming provider. Download the according app to your laptop, tablet or smartphone
Access to the online livestream is available 15 minutes before the start of the activity. Simply go to "My bookings" and click on "Join online stream now" to be redirected to the corresponding page
With some streaming providers (e.g. Zoom) it is possible for participants to see each other. However, it is theoretically possible to deactivate the camera function. The name you enter when entering the online meeting room is displayed to other participants. However, you can always change your name (e.g. only the initials). Please note: Individual rules for online participation may apply for each class or venue.
Trainer :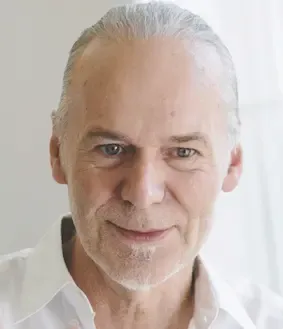 Dr. Robert Schleip
Dates:
| | | | | |
| --- | --- | --- | --- | --- |
| 1. | 21/05/2023 | 19:00 - 20:30 | Live Streaming ,, | Dr. Robert Schleip |
* All prices including VAT