Stress aktiv bewältigen – Stressmanagement Teil 1 und 2
Online stream
Starts on Wednesday, 13/01/2021
Price from 28.00 €
Description:
Ich weiß doch was ich tun muss, aber bekomme es nicht hin!
Keine Lust mehr auf schlaue Tipps, ich will endlich keinen Stress mehr!
Ist wirklich nur mein Kind/Chef/Partner schuld an meinem Stress?!
Treffen diese Aussagen auf dich zu? Dann bist du hier genau richtig!
Das Ziel dieses Kurses ist es diese Stressbelastungen wahrzunehmen, zu konkretisieren und aktiv dagegen einzuwirken. Durch theoretische und praktische Inhalte werden alle Teilnehmer individuell abgeholt und eingebunden.
Es werden, nach der Sensibilisierung für das Thema und die eigene Situation, Grundlagen zum Stressbewältigungsmanagement gelegt, sowie Stresskompetenzen gefördert.
Dieser Kurs besteht aus 2 Teilen:
1. Teil (Einheit 1-6): Grundlagenkurs 1. Wie gestresst bin ich? 2. Was ist Stress und wir wirkt sich Stress auf den eigenen Körper aus? 3. Ermittlung des individuellen Stresslevels (nach Kaluza) 4. Ermittlung eigener Stressoren und Stressverstärker 5. Erste Schritte zur Stressreduktion 6. Erste Schritte zur Stressbewältigung
2. Teil (Einheit 7-12)
Erlernen paktischer Entspannungsmethoden
Tiefergehende Erarbeitung des Stressmanagements
Erarbeitung der instumentellen Stresskompetenzen
Umsetzung und individuelle Hilfestellung des erarbeiteten Plans5. Erarbeitung und Vermittlung für die mentalen Stresskompetenzen
Erarbeitung der regenerativen Stresskompetenzen
Vertiefung paktischer Entspannungsmethoden
Unser Kurs wird mit maximal 15 Teilnehmern stattfinden, sodass der Kursleiter ausreichend auf jeden Teilnehmer individuell eingehen kann.
Da es sich um sensbile persönliche Themen handelt muss vor oder mit Kursbeginn eine Verschwiegenheitserklärung unterschrieben werden.
Es wird empfohlen Kurs 2 nur zu buchen, wenn Kurs 1 bereits besucht wurde.
Für detaillierte Fragen vorab, wenden Sie sich gern an: 07151/9857521.
Online stream
There is an online stream available for this activity. To participate, take the following steps:
Make sure to read the description of your booked activity in advance to know which streaming provider your studio uses for online streaming. Commonly used tools are e.g. Zoom, Youtube Live, Skype, Hangouts, etc. If necessary, download the necessary software or app to your laptop, tablet or smartphone
The access to the online stream is available 15 minutes before the start of the activity. You can find the link for the online stream in your online profile under "My bookings". With a click on "Join online stream now" you will be forwarded to the corresponding page and you join the activity online!
Specific streaming providers, e.g. Zoom, allow participants to see each other through the video camera. If you do not want to show yourself or the personal environment, you can deactivate the camera function or cover the camera. The name you enter when you join the online meeting room will be shown to other participants. However, you can change your name at any time (e.g. only specify the initials).
Trainer :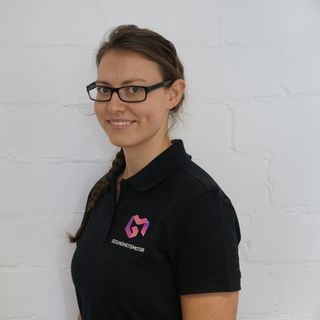 Mirjam
Personal Trainer und Gesundheitscoach Mit ihrer Energie und Motivation schafft es die studierte Sportwissenschaftlerin & Gesundheitswissenschaftlerin Ihren Bewegungsablauf zu verbessern und dich für das Thema Ernährung zu begeistern. Als ehemalige Leistungsturnerin, ist sie dort immer noch ehrenamtlich engagiert, wenn sie nicht gerade durch Mexiko oder andere Länder reist. Darum liebt sie ihren Job: "Die Arbeit mit Menschen liegt mir sehr am Herzen und ich möchte dabei helfen deren individuelle Gesundheit zu stärken. Durch einen ganzheitlichen gesundheitsförderlichen Lebensstil gelingt es die Gesundheit nachhaltig zu verbessern und zu erhalten."
Dates:
| | | | | |
| --- | --- | --- | --- | --- |
| 1. | 13/01/2021 | 18:00 - 18:45 | Online Klasse X, 71334 Waiblingen | Mirjam |
| 2. | 20/01/2021 | 18:00 - 18:45 | Online Klasse X, 71334 Waiblingen | Mirjam |
| 3. | 27/01/2021 | 18:00 - 18:45 | Online Klasse X, 71334 Waiblingen | Mirjam |
| 4. | 03/02/2021 | 18:00 - 18:45 | Online Klasse X, 71334 Waiblingen | Mirjam |
| 5. | 10/02/2021 | 18:00 - 18:45 | Online Klasse X, 71334 Waiblingen | Mirjam |
| 6. | 17/02/2021 | 18:00 - 18:45 | Online Klasse X, 71334 Waiblingen | Mirjam |
| 7. | 24/02/2021 | 18:00 - 18:45 | Online Klasse X, 71334 Waiblingen | Mirjam |
| 8. | 03/03/2021 | 18:00 - 18:45 | Online Klasse X, 71334 Waiblingen | Mirjam |
| 9. | 10/03/2021 | 18:00 - 18:45 | Online Klasse X, 71334 Waiblingen | Mirjam |
| 10. | 17/03/2021 | 18:00 - 18:45 | Online Klasse X, 71334 Waiblingen | Mirjam |
* All prices including VAT