Faszienfitness (Krankenkasse übernimmt Kosten)
Online stream
Starts on Thursday, 15/10/2020
Price from 100.00 €
Description:
Vor einer Teilnahme und verbindlichen Buchung bitten wir Dich den Fragebogen 'Kontraindikationen' zu beantworten https://forms.office.com/Pages/DesignPage.aspx#FormId=x0379g4JZkab3zxh5Gz0yDzg-BLz3AZNrEyUjuOXTulUNURGTERTUEZNU0EzVVo3WFJWVVVFV05PSy4u&FlexPane=SendForm
Dieses Training findet Online statt
Du möchtest deine Verspannungen, Schmerzen und Beschwerden loswerden?
Hilfe ich habe eine Faszienrolle - was kann ich damit tun?
Präventionskurs nach §20a SGB V zertifiziert --> Übernahme von Krankenkassen
Die Ursache für Schmerzen liegen häufig in verklebten Faszien! Aber auch Leistungssteigerung ist mit Faszientraining zu erreichen.
Mit den richtigen Methoden und gezieltem Training lassen sich die Faszien ansprechen und trainieren. Dadurch werden deine Verklebungen gelöst und deine Faszien gestärkt.
Trainingsinhalte:
kräftigendes und detonisierendes Training

Was ist überhaupt eine Faszien

Wie wende ich Faszientraining richtig an

Welche Methoden gibt es und was ist für mich die beste?

Mit und ohne Hilfsmittel, welche Hilfemittel (Bsp. Faszienrolle) gibt es?

Ganzkörpertraining mit Schwerpunkt Rücken
Dein Mehrwert bei Gesundheitsmotor:
Spaß und gleichzeitig Effektivität jeder Übung

Wissenschaftlich fundiertes Training

Überungspläne und Hintergründe für zu Hause

Individuelle Übungen, da max. 12 Teilnehmer
Kosten:
100€ insgesamt

Die gesetzliche Krankenkassen erstatten meistens 80% der Kosten bei einer 80%igen Teilnahmequote

Private Kassen auf Anfrage
Vorraussetzung
Sind eine Standardfaszienrolle und ein kleiner harter Ball mit ca. 8 cm Durchmesser (z.B. Lacrosse Ball, Baseball, Faszienball).
Diese können auch bei uns vor Ort für 30€ in Summe erworben werden. Rufen Sie uns an: 0151/65169969.
Wir freuen uns auf dich.
Online stream
There is an online stream available for this activity. To participate, take the following steps:
Make sure to read the description of your booked activity in advance to know which streaming provider your studio uses for online streaming. Commonly used tools are e.g. Zoom, Youtube Live, Skype, Hangouts, etc. If necessary, download the necessary software or app to your laptop, tablet or smartphone
The access to the online stream is available 15 minutes before the start of the activity. You can find the link for the online stream in your online profile under "My bookings". With a click on "Join online stream now" you will be forwarded to the corresponding page and you join the activity online!
Specific streaming providers, e.g. Zoom, allow participants to see each other through the video camera. If you do not want to show yourself or the personal environment, you can deactivate the camera function or cover the camera. The name you enter when you join the online meeting room will be shown to other participants. However, you can change your name at any time (e.g. only specify the initials).
Trainer :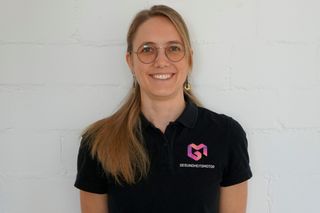 Carmen
Inhaberin & Geschäftsführerin Mit Begeisterungsfähigkeit & Weitblick schafft es die studierte Gesundheitsfördererin & Sportwissenschaftlerin dich zu Bewegung zu motivieren und mit ungewöhnlichen Trainingsmitteln, z.B. Slackline zu einem gesunden Körper zu führen. Reisen durch Südamerika und verschiedenste Sportarten, wie z.B. Volleyball oder Skifahren kommen dabei nicht zu kurz. Darum liebt sie ihren Job: "Es begeistert mich, wenn Menschen durch uns Ihren eigenen Körper verstehen lernen und selbst Lösungen für Ihre Beschwerden finden. Ich bin dankbar die Chance zu haben, diesen Beruf ausüben zu dürfen."
Dates:
| | | | | |
| --- | --- | --- | --- | --- |
| 1. | 15/10/2020 | 18:00 - 18:45 | Online Klasse X, 71334 Waiblingen | Carmen |
| 2. | 22/10/2020 | 18:00 - 18:45 | Online Klasse X, 71334 Waiblingen | Carmen |
| 3. | 29/10/2020 | 18:00 - 18:45 | Online Klasse X, 71334 Waiblingen | Carmen |
| 4. | 05/11/2020 | 18:00 - 18:45 | Online Klasse X, 71334 Waiblingen | Carmen |
| 5. | 12/11/2020 | 18:00 - 18:45 | Online Klasse X, 71334 Waiblingen | Carmen |
| 6. | 19/11/2020 | 18:00 - 18:45 | Online Klasse X, 71334 Waiblingen | Carmen |
| 7. | 26/11/2020 | 18:00 - 18:45 | Online Klasse X, 71334 Waiblingen | Carmen |
| 8. | 03/12/2020 | 18:00 - 18:45 | Online Klasse X, 71334 Waiblingen | Carmen |
| 9. | 10/12/2020 | 18:00 - 18:45 | Online Klasse X, 71334 Waiblingen | Carmen |
| 10. | 17/12/2020 | 18:00 - 18:45 | Online Klasse X, 71334 Waiblingen | Carmen |
* All prices including VAT