Booste dein Immunsystem - Öle Workshop - kostenlos - ONLINE LIVE
Online stream
Starts on Saturday, 04/09/2021
Description:
Fit in den Herbst !!!
Die dunkle Jahreszeit beginnt, und die Sonnenstunden werden weniger. Du bist einfach insgesamt weniger in der freien Natur. Da kommen viele Sachen zusammen, damit Deine Stimmung manchmal Achterbahn fährt!
Jetzt kommt der leckere Tee und die Duftkerzen werden angezündet. Doch manchmal riecht es erst ganz gut und irgendwann ist es einfach zu viel auf einmal.
Ich zeige Dir, wie Du gut in den Herbst kommst und Dich und Dein Immunsystem ideal einstellen kannst! Interessiert?
Na dann, komm doch einfach vorbei!
Du kannst Dich durch sämtliche Öle durchschnuppern und sie ausprobieren!
Erfahre, wie Du diese ätherischen Öle anwenden kannst,
wozu Du sie verwenden kannst und welche Öle Dir ganz besonders gut tun. Außerdem gibt es die Möglichkeit, Dir Deine Öle zum Vorzugspreis zu bestellen oder vor Ort zu erwerben. Ich helfe Dir gern bei der Auswahl.
Es werden ausschließlich zu 100% naturreine, therapeutische, sehr hochwertige Öle und großartige Ölmischungen von doTERRA verwendet!
Die Teilnahme ist kostenlos und nur mit vorheriger Anmeldung möglich!
Also schnapp Dir Deine Freunde, Bekannte und Familie und melde Dich gleich an!
Ich freu mich auf Dich!
Online stream
There is an online stream available for this activity. To participate, take the following steps:
This studio uses Zoom as their online streaming provider. Download the according app to your laptop, tablet or smartphone
Access to the online livestream is available 15 minutes before the start of the activity. Simply go to "My bookings" and click on "Join online stream now" to be redirected to the corresponding page
With some streaming providers (e.g. Zoom) it is possible for participants to see each other. However, it is theoretically possible to deactivate the camera function. The name you enter when entering the online meeting room is displayed to other participants. However, you can always change your name (e.g. only the initials). Please note: Individual rules for online participation may apply for each class or venue.
Teacher :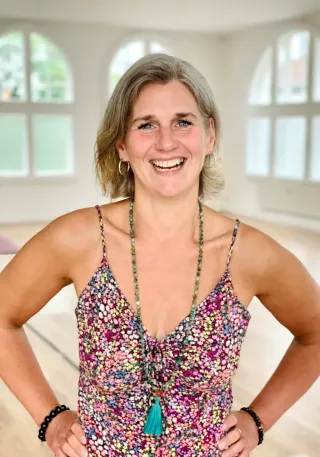 Ananda
*Gründerin und Inhaberin von YogaLoft Oldenburg* *YOGALEHRERIN für Vinyasa Yoga, Yin Faszien Yoga, Meditation, Power Yoga, KundaLuna Yoga, Männer Yoga, Personaltrainer & Dozentin für Yogalehrerausbildungen* Hallo, ich bin Ananda! Ich möchte mit Dir meinen Spaß und meine Liebe zum Yoga teilen. Von Kindesbeinen an beschäftigte ich mich bereits mit der Bewegung des Körpers und kam über eine langjährige Karatepraxis zum Yoga. Meine Wurzeln liegen im Integralen Yoga, doch durch meine regelmäßige Yogapraxis und umfangreiches Studieren verschiedener Stile, unterrichte und praktiziere ich nun MEINEN Yoga, einen Mix aus Integralem und Vinyasa Yoga. Mein Yoga ist ganz einfach ein Teil von mir geworden. Ich praktiziere Yoga nicht nur, sondern lebe es auch. Genau das, ist das Faszinierende daran, denn egal welchen Anfangsweg Du einschlägst, der Körper ist immer dankbar, wenn Du ihn flexibel hälst oder werden lässt und dadurch wird auch Dein Geist flexibler. Und das Beruhigende für mich und meine Yogis/Yoginis ist, dass jeder Körper fähig ist, Yoga zu machen. Egal in welchem Alter und mit welchen körperlichen Einschränkungen! Ich hole Dich ab, wo Du Dich befindest und begleite Dich auf Deinem eigenen Yogaweg, denn jeder geht einen anderen Weg und kommt zum gleichen Ergebnis: Mehr Zufriedenheit und Spaß im Leben. Humor ist ein wichtiger Eckpfeiler in meinem Unterricht. Je entspannter Du Yoga ausübst, desto besser kann Yoga seine heilender Kräfte entfalten. Das heißt jedoch nicht, dass es nicht anstrengend werden kann und darf ;-). Mein Motto: Suche Dir aus jeder Heil- und Lebensweise, jenes heraus, was zu Dir passt und hinterfrage es, denn jedes zu feste System hat seine Schwächen. ;-) kurzer Steckbrief: - früher war ich mal Intensivkrankenschwester - seit über 15 Jahren unterrichte ich Yoga - heute bin ich Mama von vier wundervollen Kindern und - seit 20 Jahren Frau von meinem tollen Ehemann Andreas - ein großer durchgeknallte Jagdhund gehört auch noch zur Bande
Dates:
| | | | | |
| --- | --- | --- | --- | --- |
| 1. | 04/09/2021 | 17:00 - 17:30 | Lange Straße 91 1. O.G., 26122 Oldenburg | Ananda |
* All prices including VAT