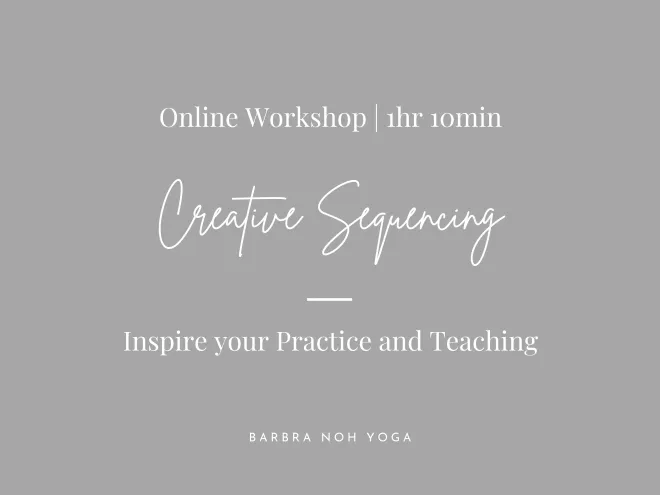 Creative Sequencing
Video
Facility/Studio
Barbra Noh Yoga
Availability after purchase
Unlimited availability
Price
| | |
| --- | --- |
| 108.00 € | KULA Gold Membership / full access to the entire video library for 12 months |
About the class
Join Barbra's KULA Gold Membership for €108,- giving you full access to her video library for 24 months. You will find yoga classes, workshops, yogic wisdom, and meditations. The library will continue to grow over time.
This workshop focuses on transitions and playfully exploring graceful ways to connect asanas and move fluidly from one moment to the next. It is an opportunity to move intuitively and create new pathways and sequences to inspire your practice and your teaching.
After receiving Barbra's suggestions and ideas, plus an example of her own Creative Movement Flow, you will be asked to pause the video, put on your favourite, inspiring music and do your own Free Flow Movement for 20 minutes as an expression of your freedom and creativity.
Length: 70 minutes (including your 20 minute Free Flow) Language: English (with some German translation)
About the trainer/teacher
Barbra Noh has been a student of movement her whole life. She is an internationally recognised yoga teacher who loves to share her passion for health, healing and personal growth. An Australian based in Munich/Germany, she travels internationally to teach workshops, offer retreats and present at conferences. Additional to her highly regarded teacher trainings she is also co-founder of the healing system, ThaiVedic Yoga. Barbra found that yoga and meditation changed her life, giving her tools to work with her mind, heal her body and nourish her spirit. She believes the transformational techniques and teachings of yoga empower and encourage us in our quest to sense our worthiness and live our full potential.