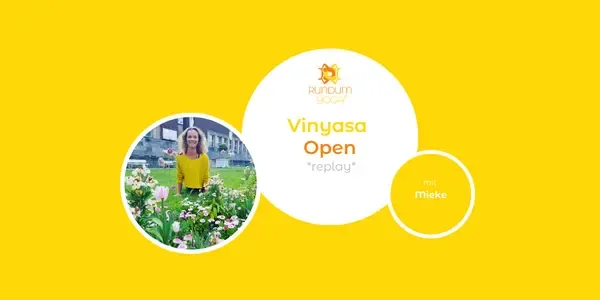 02.01.23 / Vinyasa Open Class / 90 Min.
Video
Facility/Studio
Rundum Yoga Unterbilk
Availability after purchase
7 days
Price
13.00 €
Single ticket
39.00 €
Fall in Love Deal - 3er Block
99.00 €
5 x Free Choice
189.00 €
10 x Free Choice Card
89.00 €

/ month

Membership High Flexible - 1 Month
About the class
Vinyasa Open Class
Mit dem Fokus auf ihrer präzisen Ausrichtung werden verschiedene Körperpositionen miteinander kombiniert, so dass ein harmonischer und kreativer Fluss von Bewegungsabläufen entsteht, der Teilnehmer verschiedener Level anspricht.
About the trainer/teacher
Ich bin Mieke und eine waschechte Yogaliebhaberin. Vor 8 Jahren habe ich mit dem Yoga angefangen und seitdem meine Praxis über die Jahre hinweg mehr und mehr vertieft. 2019 bei Rundum am Teacher Training teilzunehmen war eine der besten Entscheidungen meines Lebens und den Yogaweg zu leben ist meine Art und Weise, meine innere Wahrheit zu finden und dadurch nach und nach zu meinem wahren Selbst zu werden. Als ein Steinbock mit dem Aszendent Fisch könnte mein Charakter nicht unterschiedlicher sein, einerseits ambitioniert und realistisch und auf der anderen Seite mitfühlend und kreativ. Wahrscheinlich liebe ich deshalb auch in meiner Yogapraxis die Abwechslung so sehr. Meine Yogastunden sind ein Mix aus kreativen Vinyasa Flows, kombiniert mit solider Ausrichtung, Entspannungsphasen und am liebsten unterstütze ich meine Schüler dabei, eine Verbindung von Körper, Geist und Seele aufzubauen. Da ich es liebe positive Vibes zu versprühen und mein Kopf immer voll mit Ideen ist, teile ich während meiner Klassen meist die ein oder andere persönliche Lebensweisheit in Form einer kleinen Geschichte.