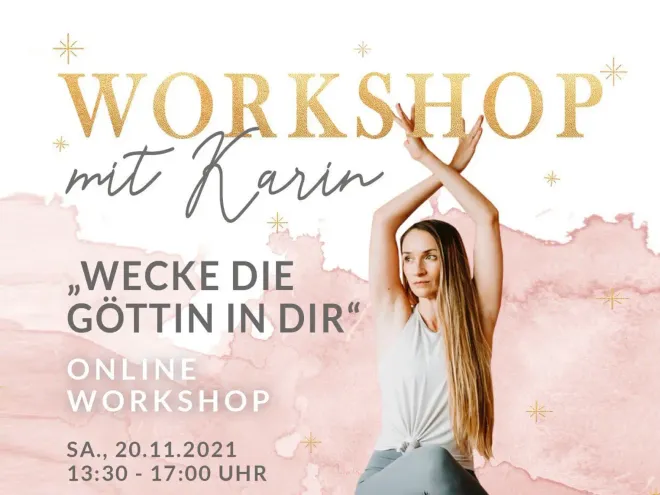 Workshop mit Karin vom 20.11.21 // "Wecke die Göttin in dir"
Video
Sport
Personality development
Facility/Studio
ROSE OF FIRE - Yoga by Wanda Badwal
Availability after purchase
Unlimited availability
About the class
Wecke die Göttin in Dir
In einer Zeit, in der das männliche Prinzip überall so präsent ist, empfinden es viele Frauen als zunehmend verwirrender, sich als Frau zu definieren und zu wissen wer sie sind: Die Liebende, die Mutter, die Karrierefrau? Eine gute Freundin, eine zuverlässige Partnerin, eine Verführerin? Powerfrau voller Energie oder ein zartes sanftes Wesen?
Manchmal fühlt es sich an, als ob wir vor einer schmerzhaften Wahl stünden: entweder stark, erfolgreich und respektiert zu sein, kraftvoll und in der Lage, eigene Entscheidungen zu treffen. Oder entspannt und feminin zu sein, fähig, Beziehungen und Offenheit zulassen zu können, Schwäche und Verletzlichkeit zu zeigen.
Dieser Workshop öffnet dir die Tür zum Potential deiner göttlichen Weiblichkeit. Er zeigt dir Möglichkeiten, deine besonderen weiblichen Eigenschaften neu zu (er)finden und alle Qualitäten und Aspekte des Frau-Seins – die femininen sowie die maskulinen – wahrzunehmen, zu schätzen und mit deinem täglichen Leben in Einklang zu bringen.
Wir lernen verschiedene Göttinnen-Archetypen aus dem Hinduismus kennen und verbinden uns durch Mantras und Meditation mit ihren jeweils spezifischen Qualitäten. Eine speziell entwickelte Asanasequenz lässt uns diese Eigenschaften auch körperlich spüren. In intensivem Austausch miteinander werden wir das Geschenk unseres Frauseins entfalten.
Dieser Workshop ist für dich geeignet, wenn du Lust hast, …
…tief in die Kraft und Magie deiner Weiblichkeit einzutauchen, …Yoga mit persönlicher Weiterentwicklung zu verbinden, …die verschiedenen Möglichkeiten der Tradition (Bewegung, Atmung, Singen und Chanten, Meditation) zu nutzen, um tief in die Erfahrung zugehen, …dich mit gleichgesinnten Frauen auszutauschen, …das Geschenk deiner Weiblichkeit zu entfalten und zu zelebrieren!
About the trainer/teacher
Karin´s Mission ist es, Menschen auf dem Weg des Yoga und der persönlichen Weiterentwicklung zu inspirieren und zu begleiten. Im Jahr 2002 hat sie ihr Psychologiestudium abgeschlossen und seither immer im Bereich der persönlichen Weiterentwicklung gearbeitet. Ihre Ausbildung zum systemischen Coach folgte einige Jahre später. Aufgrund ihres Ausbildungs- und Berufsweges beschäftigt sie sich schon lange mit den großen und kleinen Fragen, die das Leben uns stellt. In ihrer langjährigen Yoga-Praxis und ihrem Yoga Teacher Training bei Wanda durfte sie entdecken, dass Yoga uns auf diese Fragen sehr wertvolle Antworten anbietet. Für Karin ist Yoga die zeitlose Weisheit für ein gesünderes, glücklicheres und friedlicheres Leben, die letztendlich zur tieferen Verbindung mit uns selbst führt