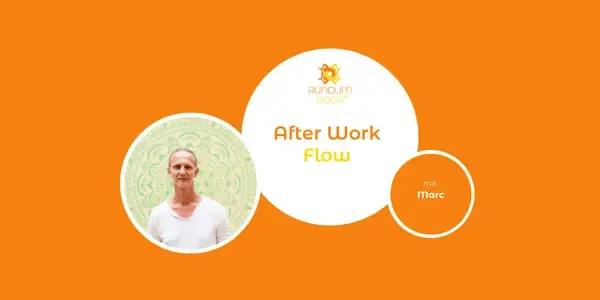 *After Work Flow*
Video
Facility/Studio
Rundum Yoga Unterbilk
Availability after purchase
Unlimited availability
Price
5.00 €
Single ticket
89.00 €

/ month

Membership High Flexible - 1 Month
About the class
Marc lädt dich auf deiner Yogamatte ein, den (Arbeits-)tag und kreisende Gedanken loszulassen sowie frische Perspektiven und Energie zu gewinnen.
Eine 20-minütige Yogapraxis, um dich zu erholen und neu zu beginnen. Nimm dir Zeit für dich, um deinen Körper zu dehnen, den Geist zu beruhigen und wieder ganz in diesem Moment anzukommen. Lass negative Energie durch diesen Flow gehen und finde das, was sich für dich gut anfühlt.
Lege dir gerne zwei Yogablöcke oder dicke Bücher bereit, falls vorhanden.
About the trainer/teacher
Die Erfahrung, durch Bewegung und Körperarbeit in Kontakt mit sich selbst und mit anderen Menschen zu kommen, begleitet Marcs ganzes Leben.  Schon als Kind begann er sich über die Bewegungen des Körpers auszudrücken und fand im Tanz ein Mittel der Kommunikation. Mit 11 Jahren wurde er Schüler an der privaten Ballettschule Pleva in Stuttgart und wechselte ein Jahr später an die John Cranko Schule des Stuttgarter Balletts, wo er 1983 seine Ausbildung zum staatlich geprüften klassischen Tänzer abschloss.  Er arbeitete 13 Jahre als Tänzer mit unterschiedlichen Choreographen im In- und Ausland. Ab 1996 tanzte er als Solist in verschiedenen Gastrollen. Durch eine Schauspielausbildung am Lee Strasberg Theatre and Film Institute in New York von 1997 bis 1999 wurde das Medium Sprache für ihn zu einer weiteren Ausdrucksform, um Emotionen und Gedanken fassbar werden zu lassen und ihnen auf der Bühne Raum zu geben. Meine dritte Ausbildung – die zum Vinyasa Yogalehrer war für ihn ein Schritt, um tiefer und achtsamer nach innen zu schauen. Die Betonung der äußeren Form und der ästhetischen Gestaltung von Körperhaltungen und Dynamik veränderte sich für ihn durch Yoga: Asana-Praxis, Pranayama und Meditation wirken weitaus fundamentaler und sind für ihn Wege, um wirklich bei sich anzukommen. Gleichzeitig ist dieser Weg ins Innere der Weg nach außen, indem er sich selbst mehr und mehr im anderen erkenne. Seine Stunden sind geprägt von fließenden, teilweise spielerischen Bewegungsabläufen. Durch die intensive Arbeit mit unseren Körpern lernen wir gleichzeitig, unseren Geist zu fokussieren. Humor und Leichtigkeit ist eine der wichtigsten Aspekte seiner Yogastunden. Das Leben ist ernst genug, deshalb darf man in seinen Klassen sehr gerne Spaß haben. Marc ist Leiter der Rundum Yoga Multistyle Ausbildung und unterrichtet Vinyasa Yoga.