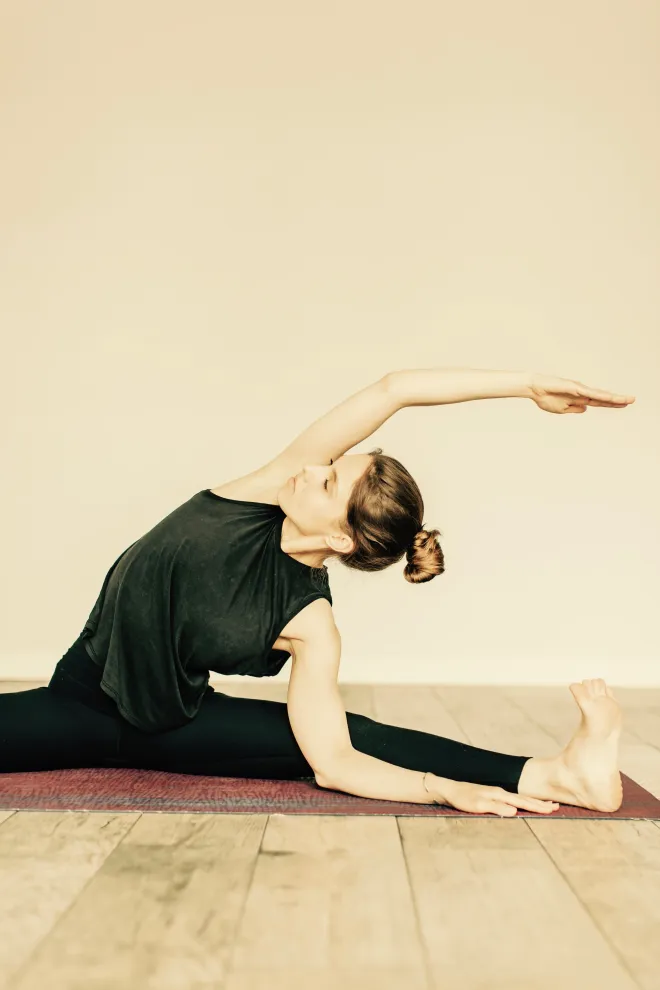 ALIGN! I-II - Falling Triangel ● 27.12.2021
Video
Facility/Studio
YogaCircle Berlin Akademie
Availability after purchase
1 week
Price
20.00 €
Einzelticket
150.00 €
8er Kurs-Karte (KK-Zuschuß mögl.)
150.00 €
8er + 2 Karte - Ära-End-Special
35.00 €

/ month

@home-Abo unlimited
69.00 €

/ month

STUDIO-ABO inkl. @home
About the class
Alice hat zum Ende des Jahres eine Herzmeditation und die Asana Patita Tarasana - the falling triangel - mitgebracht. Diese Asana erfordert sowohl Stützkraft und eine starke Mitte, als auch eine gute Portion Balance. Belohnt wird man mit einer wundervollen Herzöffnung, je nach Rückbeugenintensität. Man fühlt sich danach wunderbar kraftvoll, grazil und energetisiert. ● Wir wünschen Dir viel Freude mit dieser Sequenz ● Om Shantih!
About the trainer/teacher
"Der mentale Aspekt im Yoga und die meditative Wirkung auf unseren Körper, wenn wir die Atmung mit der Bewegung verbinden, fasziniert mich. Der Moment auf der Matte gehört ganz mir, hier verbinde ich mich jedes mal wieder mit mir selbst, ganz achtsam und ganz im Hier und Jetzt." Und genau das möchte Alice auch Ihren Schüler:innen mitgeben. Ihr ist es wichtig jede:n einzelne:n Schüler:in auf der Yogamatte 'abzuholen' und vor allem die Freude an der Bewegung zu kultivieren. Damit aus dem 'muss' ein 'will' wird.