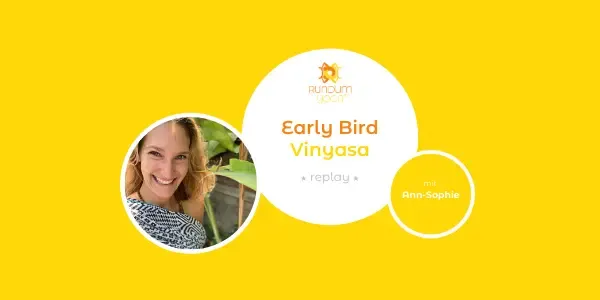 22.11.22 / Early Bird / 60 MIn.
Video
Facility/Studio
Rundum Yoga Unterbilk
Availability after purchase
7 days
Price
10.00 €
Single ticket
39.00 €
Fall in Love Deal - 3er Block
99.00 €
5 x Free Choice
189.00 €
10 x Free Choice Card
89.00 €

/ month

Membership High Flexible - 1 Month
About the class
Early Bird
Egal ob Frühaufsteher oder Morgenmuffel, unsere Early Bird Stunde ist genau die Richtige für Dich!
Deine morgendliche Praxis, gefüllt mit Asanas & Pranayama wird einen positiven Einfluss auf den Verlauf deines Tages haben und Dich bis in die Abendstunden begleiten.
About the trainer/teacher
Ich bin ein Bewegungsmensch und liebe die körperlichen und mentalen Herausforderungen von Ausdauersportarten. Yoga habe ich ursprünglich als Ausgleich zum Laufen begonnen, aber dann ganz schnell festgestellt, dass ich damit nicht einfach nur einen neuen "Sport" begonnen habe. Die tiefe, fast schon magische Kraft, die aus der Kombination von Bewegung und Atmung entsteht, hat mich von Anfang an fasziniert und mein Leben nachhaltig verändert. Nach jahrelanger eigener Praxis habe ich mich 2018 entschieden, die 200hrs Multistyle-Ausbildung bei Rundum Yoga zu absolvieren, um all das, was ich so sehr am Yoga liebe, weitergeben zu können. Kreative und komplexe Flows, die Körper und Geist herausfordern, sind meine Leidenschaft. Dieser Leidenschaft bin ich 2019 nach Bali gefolgt, um dort bei Meghan Currie im Rahmen ihres "Intrinsic Genius"-Programms noch mehr auf diesem Gebiet zu lernen. Eher durch Zufall hat mich meine fast zweimonatige Reise auch dem Tantric Hatha nähergebracht, weshalb du in meinen Stunden auch immer mal wieder Elemente aus dieser Tradition finden wirst. Dank der wunderbaren Mirjam Wagner schließlich habe ich meine Liebe zum Yin Yoga entdeckt und in verschiedenen Weiterbildungen viel von ihr lernen dürfen. Mein Yoga ist inspiriert von all diesen Stilen und Lehrern, motiviert von der Freude an der Bewegung und von der Neugier für die Welt um uns herum und in uns drinnen. Lass uns gemeinsam herausfinden, was wir mit dieser wundervollen Einheit aus unserem Körper, Geist und Herz alles anstellen können! Wir fließen spielerisch durch die unterschiedlichsten Körperpositionen und finden durch eine ausgewogene Mischung von Aktivität und Ruhe diesen wundervollen Ort der Stille in uns selbst.