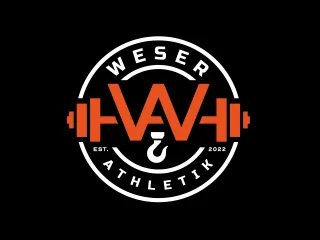 CrossFit Weser Athletik Bremen
4.9 (46 Reviews)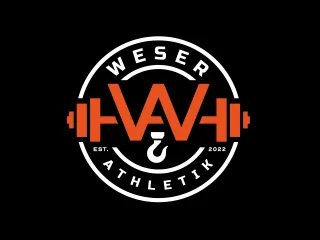 CrossFit Weser Athletik Bremen
Add to Favorites
4.9 (46 Reviews)
About us
------------------------------------ Class Programming Week 39 25.09.-01.10.23 ------------------------------------ MONTAG, 25.09.23 ------------------------------------ CARDIO ------------------------------------ WOD: For time (TC: 30 min.): 25 Burpees 2.000m Bike 25 Wallballs (9/6kg) 1.000/800m Row 20 Alt. SA Devil Presses (22,5/15kg) 1.500m Bike 20 Alt. SA Manmakers (22,5/15kg) 750/600m Row 15 Dual DB Burpee Deadlifts (2x 22,5/15kg) 1.000m Bike 15 Dual DB Thrusters (2x 22,5/15kg) 500/400m Row If you finish early, go for max. reps Ring Rows (quality > quantity). ------------------------------------ CROSSFIT ------------------------------------ Gymnastics: Strict Pull / Banded 10 x 2-4 WOD: For Time:TC: 12min 21 – 15 – 9 Front Squats (60/45kg / 50/35kg) 9 – 7 – 5 Wall Walks ------------------------------------ WEIGHTLIFTING ------------------------------------ Weightlifting A) 4 x 1 Snatch Complex From Knee (2x Pull, 1x Power, 2x Squat) @ 60/70/75% B) 3 x 5 Drop Snatch @ light weight (Fokus: Unter die Hantel tauchen ohne Dip) C) 5 x 3 Back Squat @ 70% Successory: 3 rounds 8-12 SA DB Upright Rows 5 Reverse Jefferson Curls ------------------------------------ DIENSTAG, 26.09.23 ------------------------------------ CROSSFIT ------------------------------------ Weightlifting/ Strength: Deadlift Build to today's technical heavy 5 No tng – reset for each rep! WOD: "Gwen" for Time Clean & jerk for max load 15-12-9 reps ------------------------------------ CARDIO ------------------------------------ WOD: 4 Rounds for Time TC: 30min Teams of 2 Split as you like 35/30cal. Ski – 30 Abmat Sit Ups 20 Burpee Box Jump overs 20 DB Hang Power Cleans (2x 10-22,5kg) Core: 2 Rounds 10 Hollow Rocks 10 Arch Rocks 6/6 Windmill with KB 10/10 Russian Twists with KB ------------------------------------ POWERLIFTING ------------------------------------ Week 7 Bench Press & Week 7 Deadlift Cycle ------------------------------------ MITTWOCH, 27.09.23 ------------------------------------ CROSSFIT ------------------------------------ WOD: Conditioning: Every 3min x 10 10/7 cal Bike 10 Burpees to target 10/7 cal Row Accessory: 9 x 30 sec on / 30 sec off Strict knee to elbows / Tucked leg raises to 90 Straddle compressions / Alt leg Arch rocks / Arch hold ------------------------------------ CARDIO ------------------------------------ WOD: 4 rounds (TC: 30 min.) 40 KBS (US | 24/16kg) 30 cal Bike 20 Boxjumps 10 Shuttle Runs (1 Run = 2x 5m) If you finish early, go for max. cal Ski until min. 30. Core: 2-3 rounds 10 Alt. Trunk Rotations 10 V-Ups 10 Dynamic Table Top Holds 10 Alt. Deadbugs 10 Arch Pulses ------------------------------------ DONNERSTAG, 28.09.23 ------------------------------------ CROSSFIT ------------------------------------ Weightlifting / Strength: Front Rack Reverse Lunges (alt.) 1. Build to today's heavy 20 (Alt.) 2. 20 reps @ 90% of 1 3. 20 reps @ 80% of 1 WOD: 4 x 2min on / 1min off: A) AMRAP 10 DB STOH (2x 22.5/15kg) 10 TTB / Hanging leg raises B) AMRAP 15 DB Deadlifts 2x 22.5/15kg 10 Hand release push-ups / Kneeling ------------------------------------ CARDIO ------------------------------------ WOD: 30 min E2MOM 30 min Bike erg for max distance Every 2 min: 1 Strict TTB/ Leg Raises 2 Single Arm heavy DB Devil Press ------------------------------------ POWERLIFTING ------------------------------------ Week 4 Back Squats Cycle ------------------------------------ FREITAG, 29.09.23 ------------------------------------ CARDIO ------------------------------------ WOD: "Kelly has strong Legs" (TC: 35min) 6 Rounds for Time Run/ Bike/ Row (1./2. 600m Run; 3./4. 1200m Bike; 5./6. 750/600m Row) 30 Box Jumps 30 Wallballs (9/6kg) ------------------------------------ CROSSFIT ------------------------------------ Weightlifting / Strength: Power Snatch + Snatch 1. Build to today's technical 1 +1 5 x 1 Power Snatch @ 80-90% of 1. 5 x 1 Snatch with 3 sec. Pause in bottom position @ 80-90% of 1. WOD: 12min AMRAP 5 Power Snatches (40/30kg) 7 Pull-ups / Jumping pull-ups / C2B 9 Wallballs (9/6kg) ------------------------------------ SAMSTAG,30.09.23 ------------------------------------ CROSSFIT ------------------------------------ WOD: Teams of 2 : TC: 35min 40 Rounds for time You go, I go: 1 Strict pull-up (Banded) 2 Devils press (2x 22,5/15kg) 4 DB Box step overs (2x 22,5/15kg) ------------------------------------ SONNTAG, 24.09.23 ------------------------------------ MOBILITY ------------------------------------ TEAM HOOK CHALLENGE ------------------------------------ WOD : Double Triple Double Teams of 2 - For Time (TC: 40min) 3 Rounds 20/15cal Ski 40 DU/ SU 20 Syncro DB Snatches (22,5/15kg) Into 3 Rounds 20 MedBall Partner Sit Ups 10 Syncro Pull Ups 20 DB Shoulder to Overhead Into 3 Rounds 20/15cal Row 40 DU/ SU 20 Syncro DB Overhead/ Frontsquats Rest for 5' AMRAP 15min - YGIG (Full Rounds only) 500/350m standing Bike Erg 10 (5) HSPU/ Push Ups ------------------------------------
Amenities
Showers

Food

Shop

Wellness

Changing rooms

Parking lot

Card Payment
Location
Use Akschen 91 , 28237 Bremen
Reviews
4.9
46 reviews
super Team, Coaches und einfach alles
---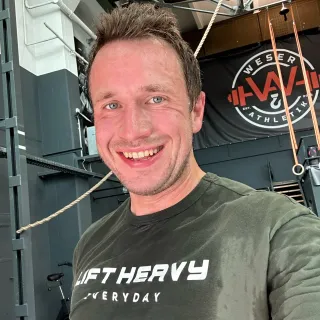 Einfach wundervoll, wurde binnen kürzester Zeit zu meinem zweiten Zuhause! Tolle Coaches, tolle member! ☺️
---
Tolle Coaches, super Atmosphäre!
---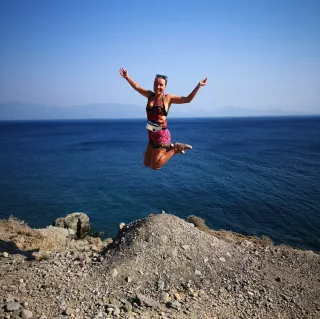 ---
Further helpful information
About the Team
CrossFit Weser Athletik Bremen ist dein Heimathafen für CrossFit und funktionale Fitness in Bremen und Umgebung. Egal ob Powerlifting, Olympic Weightlifting, CrossFit- oder Cardiokurse, ob Yoga oder Team Workouts, wir sind für dich da. Also hak dich ein und lass uns deine individuelle Reise zu einem gesünderen und stärkeren Selbst beginnen. Wir sind Juli, Fabio und Basti die Köpfe hinter Weser Athletik. Zusammen mit unserem Team an Coaches und unserer hauseigenen Physiotherapeutin sind wir für dich in allen Belangen des Sports da. Da dieser Textblock viel zu klein ist um uns alle ausreichend vorzustellen komm doch einfach vorbei und lern uns bei einem Kaffee in unserer Lounge, einem unserer Kurse oder im Open Gym persönlich kennen! Wenn du neugierig bist und jetzt schon mehr wissen möchtest schau gern auf unserem Instagram Profil vorbei! Hier findest du die aktuellsten Informationen zu uns und Weser Athletik! Wir freuen uns auf dich!
Frequently Asked Questions
1. Do I have to bring my own equipment or is it possible to borrow some at the venue?
Pack dir Sportzeug, Sportschuhe und jede Menge gute Laune ein. Ganz wichtig: Hab genug zu trinken dabei. Solltest du es mal vergessen haben, dann ist das kein Problem. Wir haben einen gefüllten Kühlschrank mit allen möglichen Getränke, die du käuflich erwerben kannst. Das aller Wichtigste: Pack jede Menge gute Laune ein!
2. What should I do if I have booked but cannot come?
Wenn du dich in einen Kurs oder das Open Gym gebucht hast, aber nicht kommen kannst gib uns bitte spätestens eine Stunde vorher per WhatsApp oder per Telefon Bescheid, damit wir den Platz neu vergeben können. ist nicht schlimm, passiert jedem, aber bitte melden. Jemand anderes freut sich bestimmt über den frei gewordenen Platz!
3. What else should I know?
Solltest zu irgendeinem Zeitpunkt Fragen haben, sprich uns jederzeit an! Gibt es ein Problem finden wir zusammen eine Lösung und deinen individuellen Weg deine Ziele zu erreichen. Natürlich passiert das nicht über Nacht, aber mit Wille, Hingabe, Geduld und Zeit. Wir und die Community von Weser Athletik sind für dich da!
4. What makes CrossFit Weser Athletik Bremen special?
Crossfit Weser Athletik Bremen bietet dir eine einzigartige Möglichkeit zu trainieren. Ob 24/7 im Open Gym oder in einem unserer vielen Kurse, wir bieten dir ein breites Spektrum um dich noch gesünder und noch stärker zu machen und das Beste….es macht auch noch unfassbar viel Spaß. Egal ob in schweißtreibenden CrossFit- oder Cardiokursen, ob Powerlifting oder Olympic Weightlifting bei dem wir Alles aus dir ausholen, ob spannende Challanges in unseren Team- oder Long Distance Workouts, ob beim entspannenden Yoga oder in unseren Personal Trainings, wir bieten dir die Möglichkeit Teil einer Community, die du so nur einmal findest. Hier steht jeder jedem bei, den zusammen schaffen wir so viel mehr als allein. Komm vorbei und überzeug dich selbst!
5. What should I know for my first visit?
Wir sind eine große offene Community. Wenn du das erste Mal zu uns kommst stell dich bitte jedem vor, damit wir wissen wie du heißt und woher du kommst. Keine Angst wir beißen nicht. Weser Athletik ist ein Ort, an dem wir Ego und vor dem Tor draußen liegen lassen. Gibt es mal ein Problem, bist du nicht gut drauf oder ärgert dich etwas ist das ganz normal. Den Frust kriegen wir zusammen weg trainiert, damit du uns wieder mit einem Lächeln verlässt und für alle Probleme findet man Lösungen, aber nicht in dem man anderen das Training vermiest. Komm vorbei, lern uns kennen und werd Teil einer großen Familie, denn das sind wir.
---
Did you know your company can help support your sports routine? Learn more here