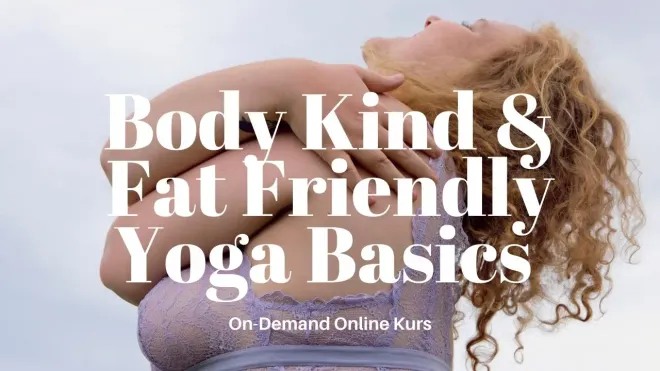 Intro: Einsteiger*innen Kurs
Video
Facility/Studio
Sophie's Safe Space - Yoga is for every body.
Availability after purchase
Unlimited availability
Price
| | |
| --- | --- |
| 0.00 € | Single ticket |
| 111.00 € | Yoga Einsteiger Kurs (On-Demand) |
About the class
In diesem On-Demand Kurs beginnst du deine ganz eigene Yogareise. Denn Yoga is ein Weg. :-) Dieser Kurs ist body kind & fat friendly und gibt dir dadurch ganz viel Zeit, Raum, Variationen und liebevolle (und ernstgemeinte) Worte um dich und deinen Körper kennenzulernen und wertschätzend zu bewegen.
Jede Einheit behandelt bestimmte Asanas (=Haltungen) body kind & fat friendly. Außerdem lernst du auch Pranayama (=Atemtechniken) und darfst dir in einer Einsteiger Meditation ganz viel Raum und Abstand geben. Zusätzlich gibt es noch einen kleinen Abschnitt in dem du erfährst, was Yoga eigentlich ist.
Inhalte des Kurses:
Intro Video: Herzlich Willkommen zum Online Kurs!
Yoga Basics (1), ohne Hilfsmittel Yoga Basics (2), ohne Hilfsmittel Yoga Basics (3), ohne Hilfsmittel Yoga Basics (4) Yoga Basics (5) Pranayama & Patanjali Meditation & Balance Yoga Basics (8), Abschlusseinheit
Zusammengefasst erhältst du insgesamt über 400 Minuten Videomaterial, verfügbar für 3 Monate ab Kauf. On-Demand, jederzeit, wann du willst, so oft du willst.
Die Teilnahme an diesem Kurs erfolgt auf eigene Verantwortung. Falls du Zweifel haben solltest, ob du Yoga praktizieren kannst, dann lass das bitte vorher ärztlich abklären.
About the trainer/teacher
Sophie hat durch Yoga zu Akzeptanz & Zufriedenheit mit sich und ihrem Körper gefunden. Sie praktiziert selbst seit über 10 Jahren und hat mehrere Ausbildungen in dem Bereich absolviert. Ihr Ziel ist es, Yoga vor allem für dick_fette, mehrgewichtige Körper zugänglich zu machen. Denn Yoga is for every BODY!