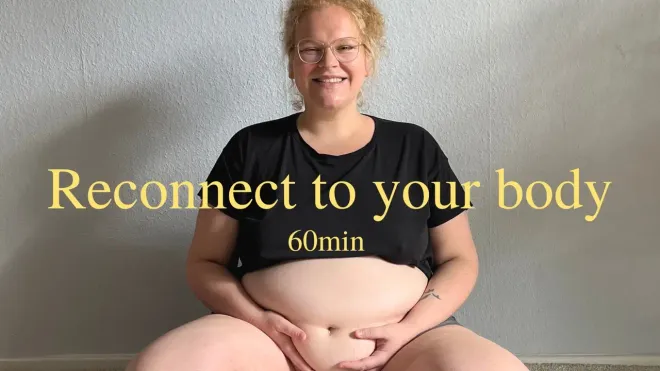 Reconnect to your body
Video
Facility/Studio
Sophie's Safe Space - Yoga is for every body.
Availability after purchase
Unlimited availability
Price
| | |
| --- | --- |
| 179.00 € | Yoga Fortgeschrittenen Kurs - Dive Deeper (On-Demand) |
About the class
In dieser intimen Session wirst du lernen, dich mit dir und deinem Körper zu verbinden. Der Fokus liegt auf deinem gesamten Körper und vor allem auf deinem Bauch. Es geht nicht darum, dass du dich nach 60min Hals über Kopf in dich verliebst - auch wenn natürlich nichts dagegen spricht. Es geht mehr darum, den IST-Zustand und deine aktuelle Beziehung mit dir und deinem Körper zu spüren und evtl. in eine Körperakzeptanz/Körperneutralität zu kommen. Aber auch das: OHNE DRUCK.
TIPP: Ziehe dir für diese Session gerne etwas Gemütliches an, sodass dein Körper frei sein kann.
WICHTIG: Wenn du dich schon länger nicht mehr liebevoll berührt hast, Kontakt mit deinem Körper vermieden hast oder ganz am Anfang deiner "Körperakzeptanz-Reise" stehst, dann achte bitte besonders auf deine Grenzen.
Ich wünsche dir ganz viel Sanftheit & Wohlwollen für diese besondere Yoga-Session.
Love, Sophie
About the trainer/teacher
Sophie hat durch Yoga zu Akzeptanz & Zufriedenheit mit sich und ihrem Körper gefunden. Sie praktiziert selbst seit über 10 Jahren und hat mehrere Ausbildungen in dem Bereich absolviert. Ihr Ziel ist es, Yoga vor allem für dick_fette, mehrgewichtige Körper zugänglich zu machen. Denn Yoga is for every BODY!