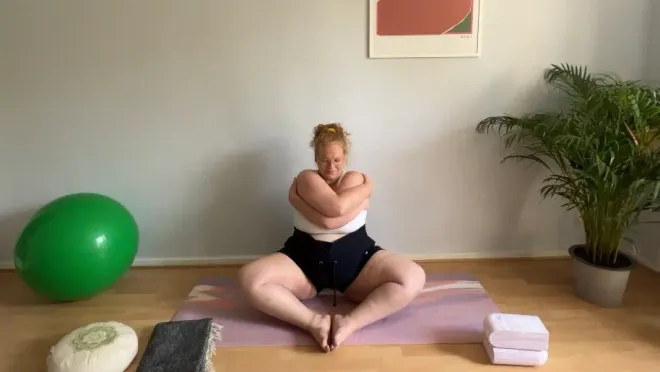 1. Trimester
Video
Facility/Studio
Sophie's Safe Space - Yoga is for every body.
Availability after purchase
Unlimited availability
Price
| | |
| --- | --- |
| 20.00 € | Single ticket |
| 49.00 € | Prenatal Plus Size Yoga BUNDLE (On-Demand) |
About the class
Diese Session ist für das 1. Trimester (1.-3. Monat) in deiner Schwangerschaft wunderbar geeignet. Nutze alle Hilfsmittel, die du hast, wie z.B. ein Bolster oder Kissen oder Gymnastikball oder oder oder... In diesem Video werden wir viele Hilfsmittel verwenden, damit du sanft zu deinem schwangeren Körper sein kannst. Außerdem lassen wir den Atem fließen und nehmen uns immer wieder Zeit um uns mit dem Bauch bzw. dem Baby zu verbinden. WICHTIG: Mach nur Dinge, die dir gut tun und die sich auch ehrlich für dich anfühlen. Viel Freude mit dem 1. Trimester "Prenatal Plus Size Yoga". Alles Liebe, Sophie
About the trainer/teacher
Sophie hat durch Yoga zu Akzeptanz & Zufriedenheit mit sich und ihrem Körper gefunden. Sie praktiziert selbst seit über 10 Jahren und hat mehrere Ausbildungen in dem Bereich absolviert. Ihr Ziel ist es, Yoga vor allem für dick_fette, mehrgewichtige Körper zugänglich zu machen. Denn Yoga is for every BODY!