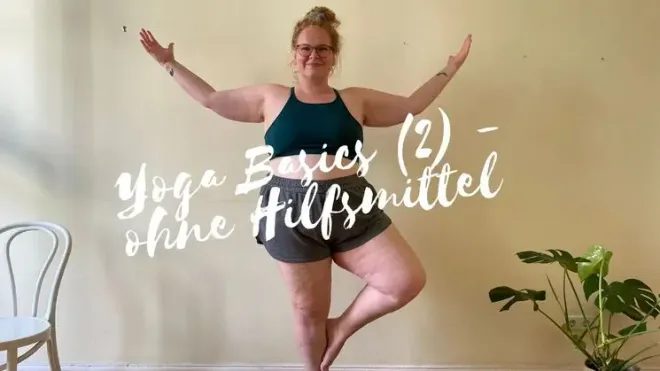 Yoga Basics (2), ohne Hilfsmittel
Video
Facility/Studio
Sophie's Safe Space - Yoga is for every body.
Availability after purchase
3 months
Price
| | |
| --- | --- |
| 20.00 € | Single ticket |
| 111.00 € | Yoga Einsteiger Kurs (On-Demand) |
About the class
Yoga Basics (2) dauert ca. 60 Minuten und ist der 2. Teil deiner Yogareise. Für dieses Video benötigst du keine Hilfsmittel, nur eine Unterlage (Handtuch, Matte, Teppich) auf der du Yoga praktizieren kannst. Die Einheit konzentriert sich auf Stehhaltungen und findet somit im Stehen sowie auf dem Rücken und im Sitzen statt.
Impuls: Schüttel deine Füße zwischen den einzelnen Stehhaltungen immer mal wieder aus. Das lockert und entspannt deine Beine & Füße. Drück zwischendurch im Video auch immer mal wieder auf STOP, wenn du eine Pause brauchst oder gehe in die Froschhaltung.
About the trainer/teacher
Sophie hat durch Yoga zu Akzeptanz & Zufriedenheit mit sich und ihrem Körper gefunden. Sie praktiziert selbst seit über 10 Jahren und hat mehrere Ausbildungen in dem Bereich absolviert. Ihr Ziel ist es, Yoga vor allem für dick_fette, mehrgewichtige Körper zugänglich zu machen. Denn Yoga is for every BODY!