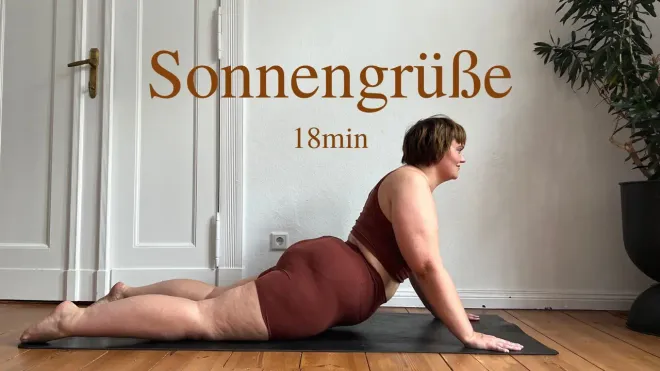 Sonnengrüße (Charlotte & Sophie)
Video
Facility/Studio
Sophie's Safe Space - Yoga is for every body.
Availability after purchase
Unlimited availability
Price
| | |
| --- | --- |
| 179.00 € | Yoga Fortgeschrittenen Kurs - Dive Deeper (On-Demand) |
About the class
Die Sonnengrüße sind ja ein Klassiker im Yoga. Es kann sein, dass mehrgewichtige Menschen den klassischen Sonnengruß ausführen können, es kann aber auch sein, dass die Belastung (v.a. auf den Handgelenken) zu viel ist. Deswegen bekommst du in dieser Session 2 Varianten. Einmal den klassischen Sonnengruß mit Charlotte und dann mit Sophie einen möglichen "fat friendly" Sonnengruß. Entscheide für dich, welcher Gruß für dich passender auch ist und dann viel Spaß beim Praktizieren.
Hilfsmittel: bei Charlotte - keine, bei Sophie - 2 Blöcke und eine dünne Decke
About the trainer/teacher
Sophie findet durch Yoga immer wieder zu sich und ihrem dicken Körper zurück und hat dadurch gelernt, sich wohlwollend und liebevoll zu begegnen. Diese Erfahrungen und ihr Wissen möchte sie gerne an andere Menschen, vor allem mehrgewichtige Menschen, weitergeben. Sie selbst praktiziert seit 2013 regelmäßig Yoga. Sie selbst praktiziert Hatha Yoga seit 2013 und hat mehrere Ausbildungen absolviert.