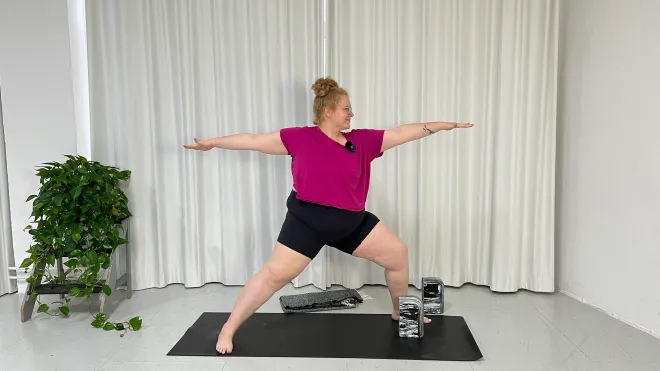 Yoga für Krieger*innen
Video
Facility/Studio
Sophie's Safe Space - Yoga is for every body.
Availability after purchase
Unlimited availability
Price
10.00 €
Single ticket
95.00 €

/ month

Mega Happy Yoga ♡ ♡
About the class
In diesem On-Demand Video wirst du durch die verschiedenen Krieger-Haltungen geführt. Die Haltungen werden dir währenddessen auch erklärt, daher ist das Video auch "Einsteiger*innen friendly". Nach ca. 20min gibt es noch eine kleine Abschluss Dehnung und ein schönes Shavasana für dich. Das komplette Package also in einem Video! :)
Hilfsmittel: 2 Blöcke und eine Decke
About the trainer/teacher
Sophie findet durch Yoga immer wieder zu sich und ihrem dicken Körper zurück und hat dadurch gelernt, sich wohlwollend und liebevoll zu begegnen. Diese Erfahrungen und ihr Wissen möchte sie gerne an andere Menschen, vor allem mehrgewichtige Menschen, weitergeben. Sie selbst praktiziert seit 2013 regelmäßig Yoga. Sie selbst praktiziert Hatha Yoga seit 2013 und hat mehrere Ausbildungen absolviert.