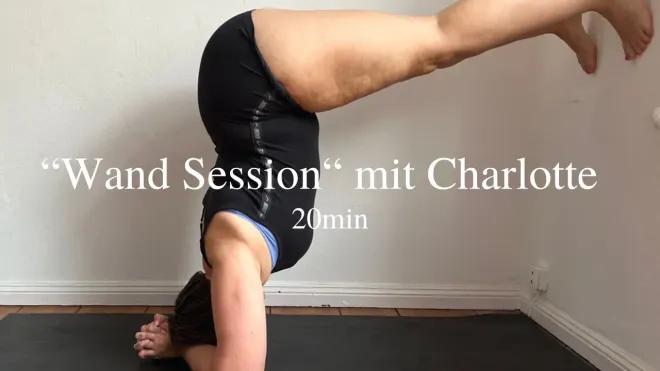 Wand-Session mit Charlotte
Video
Facility/Studio
Sophie's Safe Space - Yoga is for every body.
Availability after purchase
Unlimited availability
Price
| | |
| --- | --- |
| 179.00 € | Yoga Fortgeschrittenen Kurs - Dive Deeper (On-Demand) |
About the class
In dieser Session wirst du einzelne Asanas an der Wand mit Charlotte üben. Mach dich bereit für den halben Unterarmstand, halben Handstand oder auch den halben Spagat an der Wand. Das sind alles Haltungen, die physisch sehr ungewohnt und auch anstrengend sein können, v.a. auch für deine Handgelenke. Deswegen sei hier bitte besonders achtsam und respektiere deinen Körper und Grenzen.
Mit dieser Einheit möchte ich dir die Gelegenheit geben, an deine physischen Grenzen zu gehen und dich dadurch selbst auch zu empowern. Denke trotzdem immer daran, dass es in unserem Yoga keine Wertung gibt.
WICHTIG: Du brauchst eine freie Wand. :)
Lass mich gerne unter diesem Video wissen, wie dir die Einheit gefallen hat und wie es dir ergangen ist.
Love, Sophie
About the trainer/teacher
Sophie hat durch Yoga zu Akzeptanz & Zufriedenheit mit sich und ihrem Körper gefunden. Sie praktiziert selbst seit über 10 Jahren und hat mehrere Ausbildungen in dem Bereich absolviert. Ihr Ziel ist es, Yoga vor allem für dick_fette, mehrgewichtige Körper zugänglich zu machen. Denn Yoga is for every BODY!