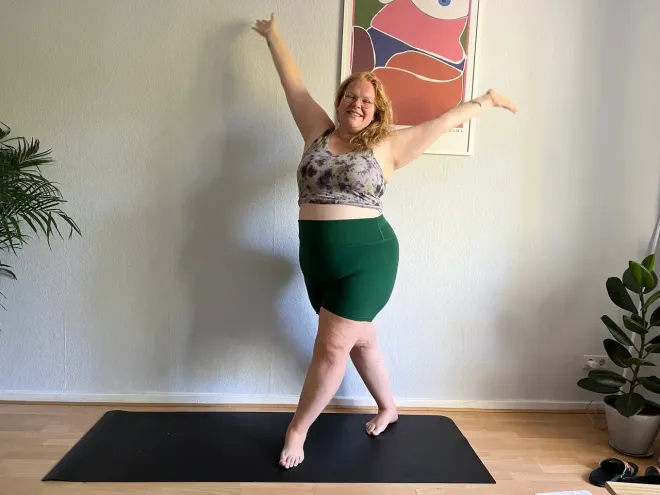 Lunch Break Yoga
Video
Facility/Studio
Sophie's Safe Space - Yoga is for every body.
Availability after purchase
Unlimited availability
Price
17.00 €
Single ticket
95.00 €

/ month

Mega Happy Yoga ♡ ♡
About the class
Schön, dass du deine (Mittags-)Pause mit Yoga (und mir ;D) verbringen möchtest! Dieses On-Demand Video ist perfekt dafür geeignet. Innerhalb von 30min wirst du dich dehnen, atmen, in alle Richtungen strecken, deinen Kreislauf in Schwung bringen und Zeit für Ruhe finden. Was kannst du konkret erwarten?
ca. 12min Aufwärmen/Schütteln/Strecken/alles ausatmen :)
ca. 10min "Fat Friendly" Sonnengrüße3. ca. 8min "Runterfahren"/Entspannen
Für dieses Video empfehle ich dir 2 Blöcke und eine Decke (für deine Knie).
Viel Freude und Spaß! Love, Sophie
About the trainer/teacher
Sophie hat durch Yoga zu Akzeptanz & Zufriedenheit mit sich und ihrem Körper gefunden. Sie praktiziert selbst seit über 10 Jahren und hat mehrere Ausbildungen in dem Bereich absolviert. Ihr Ziel ist es, Yoga vor allem für dick_fette, mehrgewichtige Körper zugänglich zu machen. Denn Yoga is for every BODY!