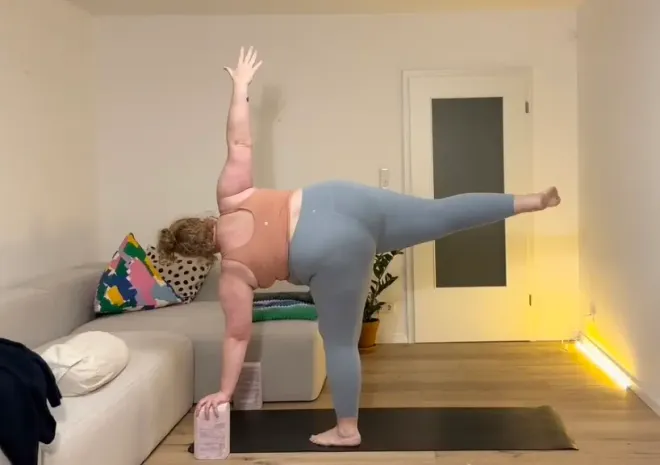 Yoga is for every BODY, 3.11.23
Video
Facility/Studio
Sophie's Safe Space - Yoga is for every body.
Availability after purchase
Unlimited availability
Price
17.00 €
Single ticket
17.00 €
Einzelticket (60min)
95.00 €

/ month

Mega Happy Yoga ♡ ♡
About the class
Anlässlich unseres 3. Geburtstags gibt es eine Woche lang 90min Sessions. Unter anderem diese, in der wir Yoga, unsere Praxis und uns selbst feiern. Aber auch unsere Grenzen ehren.
Wir starten im Liegen und gewöhnen unseren Körper an Bewegung. Ganz langsam startet dann der dynamische Teil (Tipp: etwas zum Trinken neben die Matte bereitstellen). Wenn wir warm geworden sind, gehen wir entspannt in unsere Dehnungen und dann in die Schlussentspannungen.
Es ist eine klassische Hatha Yoga Stunde.
Hilfsmittel: 2 Blöcke, 1 Kissen, 1 Decke
About the trainer/teacher
Sophie findet durch Yoga immer wieder zu sich und ihrem dicken Körper zurück und hat dadurch gelernt, sich wohlwollend und liebevoll zu begegnen. Diese Erfahrungen und ihr Wissen möchte sie gerne an andere Menschen, vor allem mehrgewichtige Menschen, weitergeben. Sie selbst praktiziert seit 2013 regelmäßig Yoga. Sie selbst praktiziert Hatha Yoga seit 2013 und hat mehrere Ausbildungen absolviert.