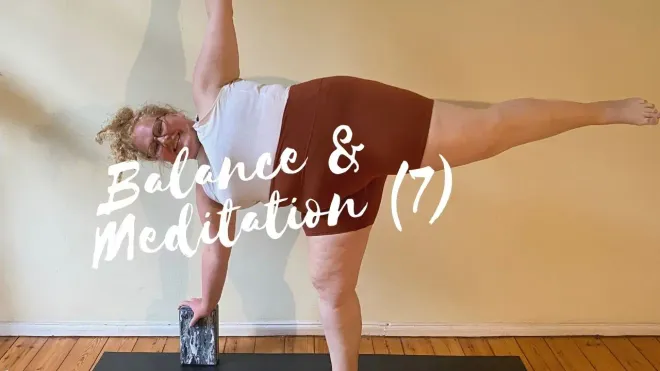 Balance & Meditation (7)
Video
Facility/Studio
Sophie's Safe Space - Yoga is for every body.
Availability after purchase
3 months
Price
| | |
| --- | --- |
| 20.00 € | Single ticket |
| 111.00 € | Yoga Einsteiger Kurs (On-Demand) |
About the class
Das ist die 7. Einheit deiner Yogareise und dauert ca. 50min. Hier wirst du nochmal einiges im Stehen praktizieren und noch die ein oder andere Stehhaltung lernen. Außerdem darfst du hier neugierig auf deine (innere & äußere) Balance sein und ganz liebevoll mit dir umgehen, falls dir Balance schwerfällt (wie mir... du wirst es sehen ;)). Im 2. Teil dieser Einheit leite ich dich durch eine kleine Einsteigermeditation, die dir viel Raum & Abstand geben kann.
Impuls: "Wahre Ruhe ist nicht Mangel an Bewegung. Sie ist Gleichgewicht der Bewegung." - Ernst von Feuchtersleben
About the trainer/teacher
Sophie hat durch Yoga zu Akzeptanz & Zufriedenheit mit sich und ihrem Körper gefunden. Sie praktiziert selbst seit über 10 Jahren und hat mehrere Ausbildungen in dem Bereich absolviert. Ihr Ziel ist es, Yoga vor allem für dick_fette, mehrgewichtige Körper zugänglich zu machen. Denn Yoga is for every BODY!